Refresher Course
Refresher Class

Are you a past client of Prodogz Dog Training and needing a refresher? We are now proud to offer a three week refresher class for those who have received training services through us. This three week class will be held every Saturday from 10 AM to 11:30 AM and is offered to anyone that is either taken private sessions, puppy classes or even basic obedience classes and looking to brush up on their training skills.
Whether your dog is struggling with behaviors such as Sit, Down, Come & Stay or you're just looking to socialize your dog, this is a great opportunity to receive training services at an introductory cost of only $100.
This 3 week refresher class will be taught by Bethany Brown.
Signing up is easy, just fill out our online application and make your entry fee at the same time. Once we receive your application and your entry fee, we will reserve your spot. You will receive a confirmation email the night before the class starts reconfirming your entry and final instructions about what to bring. Please feel free to contact me with any questions.
Cost: $100.00
Prerequisites: For dogs puppies 6 months and up.
Date: Nov 15th 6PM - 7:30PM , 90 Minutes
Duration: 3 weeks, every Tuesday Evening
Location: Prodogz 201 E. Barnett Rd, Medford, OR 97501
Aggressive Dogs: If you have a dog that is reactive (aggressive),
is extremely nervous or not comfortable in group settings.
We would recommend a private session before attempting a group class.

Start You're Application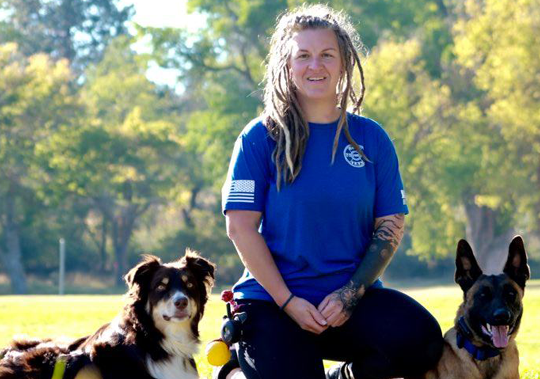 Bethany Brown
The Dog Trainer
Position

Dog Trainer

Experience

8 Years Of Experience

Service Record

2 tours in Iraq, several awards and citations including an Army Commendation Medal and the Combat Action Badge
Who is Bethany Brown
Bethany Graduated with honors from Tullahoma High School in Tullahoma Tennessee in 2001. At the age of 11 she began her life and her love of animals working at a local Veterinary Hospital.

Shortly after graduation at the age of 17 she joined the US Army and served as a communications specialist for eight years. Her duty stations include; Germany, Alaska, Hungary, Kosovo, and 2 tours in Iraq. She has recieved several awards and citations including an Army Commendation Medal and the Combat Action Badge. Upon separation from the military the Veterans administration diagnosed her with Post Traumatic Stress Disorder and she found that she needed a way to decompress after her combat experiences. She found hiking, camping, watching her boys play sports, knitting, working out at the gym, and anything that can be done with her dog provided solace.
Spending time with her dog and other animals provided the greatest relief so she currently does house sitting and pet sitting, caring for all types of animals. Which has led to her greatest passion of training dogs and helping owners understand their dogs needs. She has found that working with her own dog has taught her some important life lessons and helped her through some of the toughest times of her life, so much so that she is passionate about teaching and helping foster greater relationships between dogs and owners.