Unleashing Excellence: Prodogz Dog Training - Your Path to a Well-Behaved Canine Companion
Introduction
If you're a dog owner in Medford or Southern Oregon, you've likely heard of Prodogz dog training. With years of experience serving the local community, Prodogz has earned a reputation as one of the premier dog training businesses in the region. What truly sets Prodogz apart is their unwavering commitment to employing positive reinforcement techniques in their training methods.
The Power of Positive Reinforcement
At Prodogz, the cornerstone of their training philosophy is the use of positive reinforcement techniques. Unlike traditional methods that rely on punishment, Prodogz focuses on rewarding good behavior and guiding dogs towards making the right choices. This approach not only facilitates effective training but also cultivates a strong bond of trust between dogs and their owners.
A Multitude of Services
Prodogz offers an extensive array of dog training services to cater to various needs:
1. Puppy Training
Starting your furry friend off on the right paw is essential. Prodogz specializes in teaching puppies the basics of obedience, socialization, and fundamental commands.
2. Obedience Training
For dogs of all ages, obedience training is crucial. Prodogz helps dogs master commands, ensuring a harmonious relationship between them and their owners.
3. Behavior Modification
Addressing behavioral issues is Prodogz's forte. From excessive barking to separation anxiety, their experienced trainers employ tailored strategies to help dogs overcome challenges.
Expert Trainers, Personalized Approach
What truly distinguishes Prodogz is its team of skilled trainers. These professionals possess a wealth of experience and expertise, enabling them to work effectively with dogs of all breeds and temperaments. Every trainer invests time in understanding each dog and their owner, tailoring their methods to suit individual requirements.
The Art of Canine Communication
Prodogz's approach goes beyond typical training; they strive to empower dog owners to become effective communicators and teachers for their pets. This partnership results in dogs that not only respond to commands but also learn to think and reason through situations.
Creating Canine Thinkers
Prodogz believes that dogs are thinking beings capable of making choices. The company recognizes that no single method fits all situations. Each dog's personality, breed, and size influence the training approach. The skilled trainers at Prodogz possess the instinctive ability to determine which techniques suit each dog's unique circumstances.
The Path to Empowerment
The goal at Prodogz is to create empowered dogs that exhibit control and the freedom to make informed decisions. By teaching dogs good decision-making skills rather than mere pattern-based responses, Prodogz nurtures dogs that confidently navigate various situations.
Conclusion
In Medford and Southern Oregon, Prodogz stands as a beacon of excellence in the realm of dog training. Their dedication to positive reinforcement, personalized approaches, and empowering dogs with cognitive skills sets them apart as a trusted partner for dog owners seeking top-tier training services.
Our Sitemap
FAQs
1.
What makes Prodogz different from other dog trainers?
Prodogz's
unique approach centers on positive reinforcement techniques and personalized training strategies, creating a bond of trust and empowerment.
2.
Are Prodogz trainers experienced?
Yes
, Prodogz trainers are seasoned professionals with extensive experience working with dogs of various breeds and temperaments.
3.
Do they offer puppy training?
Absolutely
, Prodogz specializes in puppy training to ensure a strong foundation of obedience and socialization.
4.
Can Prodogz address behavioral issues in dogs?
Yes
, Prodogz excels in behavior modification, helping dogs overcome a range of behavioral challenges.
5.
How does Prodogz empower dogs to make choices?
Prodogz
teaches dogs good decision-making skills, allowing them to think and reason their way through different situations.
Dog Training Schedule in Medford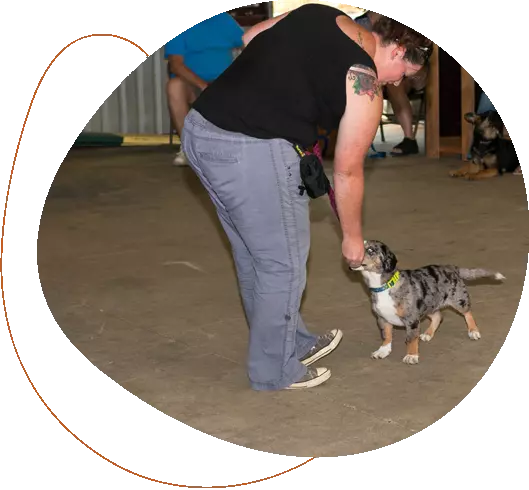 Prodogz Dog Training of Southern Oregon & All of The Rogue Valley
We Service the Entire Medford & Jackson County Area
Our training programs are based on clear communication and positive reinforcement. We believe training dogs is not about being the "Leader Of The Pack" but instead working with your dog with science-based methodology. We base training on "Engagement" instead of fear-based techniques. So if you are looking for dog obedience classes or dog obedience school near you that teaches positive reinforcement techniques, Prodogz should be your first choice.
Dependable
Responsive
Engaged
Discover More
Services
We Provide Quality Services